First Medical college in Mizoram name Zoram Medical College formerly MIMER.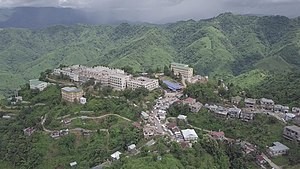 Falkawn: Nation's development index is measured with the level of fitness and health of the citizens and with a proper healthcare facility to the people help to prosper the nation socially and economically. Realizing the importance of providing a standardized healthcare facility to every citizens as well as fulfilling the dreams of many aspiring medical practitioners, Central government in collaboration with the Mizoram state government has taken an initiative and have finally set-up the first-ever medical college of the state at the Falkawn Referral hospital in Falkawn village, 16kms away from Aizawl city.
Based on the recommendation of MCI under section 10-A of the Indian Medical Council Act, 1956, Mizoram Medical College formerly Mizoram Institute of Medical Education and Research (MIMER) is set to commence its first ever session 2018-2019 from this August with initial intakes of 100 seats, of which 15% will reserve for Central pool, 10% for Non-Resident Indian (RNI) and the rest will manage by the state.

To kick-start the first badge, this new medical college will provide three courses - Anatomy, Physiology and Biochemistry with 74 teaching faculties, 3 professors, 4 associate professors, 28 assistant professors, 8 senior resident docs, 17 junior resident docs and 14 demonstrators.
For more information >> https://en.wikipedia.org/wiki/Zoram_Medical_College
ACHIEVEMENTS OF ZORAM MEDICAL COLLEGE
(2020 – 2021)
1. Various recruitments were done during the year 2020 – 2021, the following teaching and non-teaching staff are appointed.
1) Professor – 1 No
2) Associate Professor – 3Nos
3) Assistant Professor – 5Nos
4) Senior Resident – 4Nos
5) Demonstrator – 2Nos
6) Junior Resident – 5Nos
7) Audiologist & Speech Therapist – 2 Nos
2. Due to the outbreak of Covid-19, Zoram Medical College / State Referral Hospital was declared as designated Covid-19 Hospital and the first Covid-19 patient in the state was admitted on 25th March, 2020. He was successfully cured and discharged on 9th May, 2020. ICU and other wards are arranged for treatment of Covid-19 patients.
3. As a preventive measure of Covid-19 outbreak, classes were suspended with effect from 17th March, 2020 and online classeswere conducted regularly with effect from 20th April, 2020. Regular class / Practical class recommenced from 19th October, 2020.
4. Covid-19 Laboratory was set up on 2nd April, 2020 and it was made functional with effect from 7th April, 2020 for testing of Covid-19 suspected samples. Various doctors and laboratory technicians from ZMC completed training on Covid-19 sample testing at VRDL (Viral Research & Diagnostic Laboratory),Silchar Medical College.
5. Permission for admission of 3rd Batch MBBS (100 seats) was granted by the Board of Governors, Medical Council of India on 24.09.2020. 97 (Ninety seven) students have been admitted as on 04.01.2021 for 3rd Batch MBBS.
6. Centrally Sponsored Scheme 'Viral Research & Diagnostic Laboratory (VRDL)'is being set up in the campus under the Ministry of H&FW scheme – "Setting up of nation-wide Network of Laboratories for Managing Epidemics and National Calamities" for early identification and diagnosis of viral infections.
7. Engineering works during 2020 – 2021:-
1) Construction of Animal House (Rs. 73.9 lakh) – Completed
2) Construction of Community Medicine dept building (Rs. 1.78 Cr) – Completed
3) Construction of Gents' Hostel (72 bedded)(Rs. 5 Cr) – Completed
4) Construction of Ladies' Hostel (72 bedded)(Rs. 5 Cr) – Completed
5) Construction of Private Cabin (Handed over to PWD) – Ongoing
Watch the video (ZMC formerly MIMER)