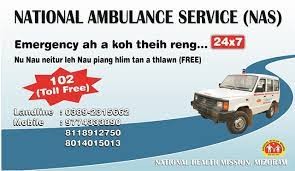 National Ambulance Service (102) hian nu nau nei tur leh nausen kumkhat tling lo tan Sorkar Damdawiin
ah a thlawn in lam (Pick) leh thlah (Drop) a theih.
102 dial hian man chawi a ngai lova. 102 ah hian call executive darker 24 call chhang tur an awm reng a ni.
Achievement during 2021-22
The National Ambulance Service was set up in 2013 with 62 Ambulances across the state. The main objective of the National Ambulance Service is to provide transportation facility to Pregnant women and infant in order to provide safe, healthy and hygienic delivery at health institutions.
However, apart from providing pick and drop facility to pregnant women and infant, NAS also transport patients on emergency cases that are in need of emergency medical service.
National Ambulance Service under the National Health Mission provide 62 ambulances across 59 different health institutions within the state that are monitored by a centralized Call Centre (102 toll free) that functions 24/7.
Achievement of NAS Ambulance for 2021-2022 FY

Distance
covered

Maternity

Infant

Sick

Others

No. of trips

Aizawl East

49117

661

8

32

345

1046

Aizawl West

22141

176

61

21

609

867

Lunglei

61245

308

24

82

549

963

Serchhip

26264

43

1

7

468

519

Mamit

67

2

0

0

3

5

Champhai

51458

73

10

39

575

697

Kolasib

19573

202

7

20

248

477

Lawngtlai

6248

30

4

17

23

74

Siaha

199

131

0

5

0

136

TOTAL

236312

1626

115

223

2820

4784