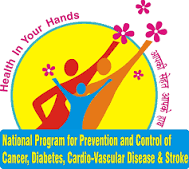 National Programme for Prevention and Control of Cancer, Diabetes, Cardiovascular diseases and Stroke (NPCDCS)
NPCDCS was launched on 4th Feb'2014 by the Hon'ble Health Minister Shri _
Staff recruitment for State & District NCD Cells were done between 25th February 2014 to 6th March 2014
Orientation training for new staff under NPCDCS was held on 2nd April 2014
State NCD Cell, 2 District NCD Cells & 2 District NCD Clinics were initially set up at Aizawl and Lunglei District
District NCD Cells and Clinics are currently being set up in another 2 districts viz., Champhai and Saiha
NCD Clinics are also being set up in 5 CHCs under Aizawl & Lunglei district i.e., Saitual, Lengpui, Thingsulthliah, Sakawrdai and Hnahthial
A doctor and 4 nurses are also to be posted at Cardiac Care Unit(CCU), Civil Hospital, Aizawl & Civil Hospital, Lunglei
Recruitment of new staff for the new posts is currently under process.
Currently, under the programme, we have:
OBJECTIVE OF THE PROGRAMME:



—Health promotion through behaviour change with involvement of community, civil society, community based organizations, media etc.
—Opportunistic screening at all levels in the health care delivery system from sub centre and above for early detection of diabetes, hypertension and common cancers. Outreach camps are also envisaged.(30 years & above)
—To prevent and control chronic Non-Communicable diseases, especially Cancer , Diabetes, CVDs and Stroke.
—To build capacity at various levels of health care for prevention, early diagnosis , treatment, IEC/BCC, operational research and rehabilitation.
—To support for diagnosis and cost effective treatment at primary, secondary and tertiary levels of health care.
Achievement during 2019-2020

| | |
| --- | --- |
| (Clinic + Camps) | FY 2019 – 2020 |
| No. of Patients screened | 135273 |
| No. of patients -Physiotherapy | 3334 |
| No. of persons counselled | 24594 |
| Patients diagnosed with | |
| Diabetes | 12807 |
| Hypertension | 11700 |
| CVDs | 51 |
| Stroke | 44 |
| Cancer | 135 |

Supervisory Visit:-

Civil Hospital, Aizawl

District Hospital, Kolasib

NCD Clinic, SDH, Kulikawn

NCD Cell, CMO West, Aizawl





Training, Day & Review Meeting:-

| | | | |
| --- | --- | --- | --- |
| Sl No. | Name of Training | Date of Training | Duration |
| 1 | Review Meeting of Officers & Staff | 27th May, 2019 | 1 Day |
| 2 | Training on NCD App for Medical Officers & Health Workers | 28th – 29th May, 2019 | 2 Days |
| 3 | PBS Training for Medical Officers & Staff Nurses | 30th – 31st May, 2019 | 2 Days |
| 4 | World Diabetes Day | 14th Nov 2019 | 1 Day |
| 5 | World Cancer Day | 4th Feb 2019 | 1 Day |
| 6 | PBS Training for Medical Officers | 13-14 Feb. 2020 | 2 Days |
| 7 | PBS Training for Staff Nurses | 18-19 Feb. 2020 | 2 Days |
| 8 | Review Meeting under NPCDCS | 12th March 2020 | 1 Day |




Talk Show, NCD @ Local Cable Zonet

Leaflets on Non- Communicable diseases, Cholesterol printed

TV spots on 'Population Based Screening of NCDs' & Heart Attack & Stroke developed

Medical Officers : 4 (1 SNO & 3 Specialists – Medicine, Gynae & Public Health)

Staff Nurse : 2 (1 MO & 1 SN)

Health Workers : 2(1 MO & 1 SN)

ASHA : 2 (Nurses)



Physical Achievement during 2017-18






| | | | | |
| --- | --- | --- | --- | --- |
| (Clinic + Camps) | 2014-15 | 2015-16 | 2016-17 | 2017 –18 |
| No. of Patients screened | 23,947 | 85,710 | 1,08,888 | 80,000 |
| No. of patients -Physiotherapy | 617 | 1,401 | 2,227 | 2,954 |
| No. of persons counselled | 2,914 | 13,000 | 17,794 | 17,125 |
| Patients diagnosed with | | | | |
| Diabetes | 3,512 | 9,666 | 14,202 | 10,686 |
| Hypertension | 2,119 | 12,904 | 14,362 | 7,624 |
| CVDs | 85 | 673 | 730 | 332 |
| Stroke | | | 59 | 43 |
| Cancer | 56 | 179 | 50 | 68 |
| No. of camps | 7 | 63 | 97 | 55 |
FUTURE PLAN:
Plan for expansion of NPCDCS during 2013-2017
| | | | | | | | |
| --- | --- | --- | --- | --- | --- | --- | --- |
| Fin Year | State NCD Cell | District NCD Cell | District NCD Clinic | ICU/CCU/ CCC | CHC NCD Clinic | PHC covered | Sub-Centre covered |
| | | | | | | | |
| 2013-14 | 1 | 2 | 2 | 2 | 5 | 0 | 166 |
| 2014-15 | 1 | 5 | 5 | 2 | 8 | 33 | 235 |
| 2015-16 | 1 | 7 | 7 | 2 | 10 | 46 | 303 |
| 2016-17 | 1 | 8 | 8 | 2 | 13 | 57 | 362 |