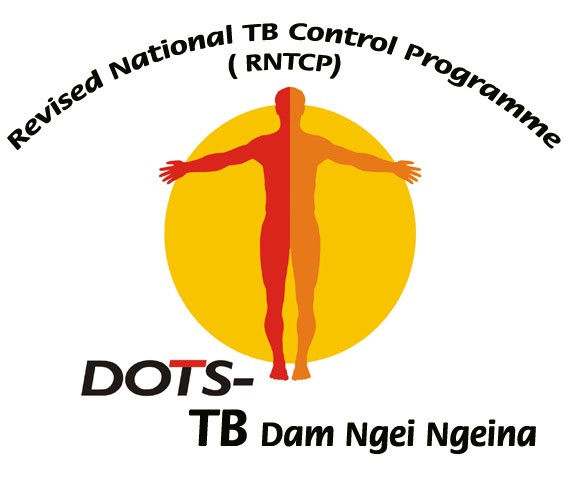 REVISED NATIONAL TUBERCULOSIS CONTROL PROGRAMME
The Revised National Tuberculosis Control Program was launched in India in 1992. The focus of TB treatment shifted from the patient to the caregiver. Sputum microscopy became the Gold Standard of TB diagnosis and Directly Observed Treatment Shortcourse (DOTS) became an essential component of RNTCP. Mizoram implemented RNTCP in 2003 and Programmatic Management of Drug Resistant Tuberculosis (PMDT) erstwhile DOTS Plus in 2011.
The goal of RNTCP is to reduce the mortality and morbidity associated with TB until it ceases to be a public problem and to cut the chain of transmission. These goals are achieved by the following objectives:
To achieve and maintain Cure Rate of 85% among New Smear Positive patients.
To achieve and maintain a Case Detection Rate of at least 70% of the expected New Smear Positive pulmonary TB cases among the community.
In basic RNTCP services, diagnosis is made by Sputum Microscopy. In Mizoram there are a total of 34 places where sputum can be examined. For PMDT services, diagnosis is made by a molecular method known as Cartridge Based Nucleic Acid Amplification Test (CBNAAT) which is placed in DR-TB Centre, Falkawn. This type of test takes approximately 2 hours only. The then TB Hospital located in Zemabawk has now been shifted to DR-TB Centre, Falkawn. However, only MDR-TB and XDR-TB patients are admitted because domiciliary treatment has been found to be as effective as sanatorium treatment for other TB patients except these two.
Aizawl District – DTC Aizawl, Presbyterian Hospital (Durtlang) MC, Aibawk MC, Sialsuk MC, Lengpui MC, Thingsulthliah MC, Saitual TU, Darlawn TU, Sakawrdai MC, Suangpuilawn MC, Kulikawn Hospital TU leh Aizawl Hospital MC.
Mamit District – DTC Mamit, Kawrthah MC,W. Phaileng MC leh Marpara PHC.
Kolasib District – DTC Kolasib, Vairengte MC.
Serchhip District – DTC Serchhip, N.Vanlaiphai MC, Thenzawl MC
Lunglei District – DTC Lunglei, Hnahthial TU, Tlabung MC, Serkawn Hospital MC
Lawngtlai District – DTC Lawngtlai, Chawngte MC, Sangau MC.
Saiha District – DTC Saiha, Tuipang MC
Champhai District– DTC Champhai, Khawbung MC, Ngopa MC, Khawzawl MC
The different treatment regimens for Tuberculosis include the following categories:
Category I : For New cases.
Category II : For Previously Treated cases.
Category IV : For Multi Drug Resistant TB (MDR-TB) cases.
Category V : For Extensively Drug Resistant TB (XDR-TB) cases.
RNTCP offers a variety of honorarium to patients who have successfully completed treatment as well as to the voluntary DOT Providers who have diligently ensured that patients are taking regular treatment.
| | |
| --- | --- |
| Provider | Amount |
| Cat-I | Rs1000/- |
| Cat-II | Rs1500/- |
| Cat-IV | Rs5000/- (IP-2000,CP-3000) |
| Beneficiary | Amount |
| Patients on completion of treatment | Rs 750/- |
| Travel cost of MDR-TB to DR-TB center(outside district) | Upto Rs 1000/- |
| Travel cost of MDR-TB to DR-TB center (within district) | Upto Rs 400/- |
| Injection Prick | Rs 25/injection |
| Volunteers for sputum transport | Rs 25/sputum |
Achievement during 2021-22

During April 2021 to March 2022, 6745 people were examined for TB.

There were 1698 TB patients notified in Mizoram.

1336 patients were notified from Public Sector and 362 from the Private Sector.

1694 out of 1698 (99.76%) TB patients were tested for HIV.

289 out of 1694 TB patients tested positive for HIV which is 17.06%

1670 out of 1698 were screened for Diabetes Mellitus. Screening coverage is 98.58%

1660 TB patients were screened for Tobacco usage in smoking and non-smoking form (97.76%) out of which 407 were referred to Tobacco Cessation Clinics.

1642 TB patients were also screened for alcohol usage (96.70%)

Alcohol usage among TB patients is recorded to be 262 among 1698 patients (15.42%)

1314 TB patients were also screened for Covid19 during this period (77.38%) out of which 6 (0.45%)

The Success Rate of TB patients was 90.57% (Cured + Treatment completed)

TB Preventive Therapy coverage in <5 years is 20.35%

TB Preventive Therapy coverage in >5 years is 6.20%

There were 75 deaths due to TB during the same period.

2634 patients were tested for MDR TB.

109 were diagnosed with MDR TB out of which 106 were put on treatment (97.24%)

64.91% of all MDR TB patients had successful outcomes.
Achievement during 2015-2020
| | | | | | | | |
| --- | --- | --- | --- | --- | --- | --- | --- |
| Sl;.No. | Indicator | 2015 | 2016 | 2017 | 2018 | 2019 | 2020 |
| 1 | Total No. of patients examined (Target = 2%) | 9658 | 8961 | 8129 | 8394 | 17171 | 11756 |
| 2 | Total TB cases notified (Target=100%) | 2088 | 2149 | 2508 | 2601 | 2999 | 2296/4000 (57.40%) |
| 3 | Success Rate (Ttarget=90%) | 85% | 86% | 88% | 85% | 93% | 78% |
| 4 | % of TB tested for HIV | 80% | 81% | 90% | 92% | 86% | 91% |
| 5 | Total TB Patients Positive for HIV | 12% | 12% | 7% | 12% | 14% | 13% |
| 6 | No. of MDR TB tested | 442 | 1104 | 2568 | 5832 | 6393 | 7112 |
| 7 | No. of MDR TB put on treatment | 47 | 45 | 68 | 69 | 128 | 166/166 (100%) |
| 8 | Success rate of MDR TB Patients | 71% | 47% | 25% | 68% | 64% | 72% |
| 9 | No. of TB death | 38 | 35 | 29 | 51 | 56 | 50 |